How to add an Architecture Change Request
Summary/Goal:
The Architecture Change Request allows managers and board members to work directly with residents on their home improvement project requests and approve or reject a request.

Add an architecture change request
Navigate to "Tickets" and click on "Architecture Change Requests".


Click on "Add Architecture Change Request".


Enter in the ticket details:


Add a subject and description for the request.

Set a due date for the ticket.

Search for a unit to associate the request with. You can search by using shortcuts provided in the tips box.

Select the resident account the ticket is for.

Add in the contact name, email, and phone number.

Choose to notify the contact by email or not.

Select occupant permissions for the ACR ticket. Review our article on Occupant Permissions for more information.

Assign the ticket to yourself or a manager.

Add attachments.



Once you've completed all the ticket details, click on "Add" to create the ticket.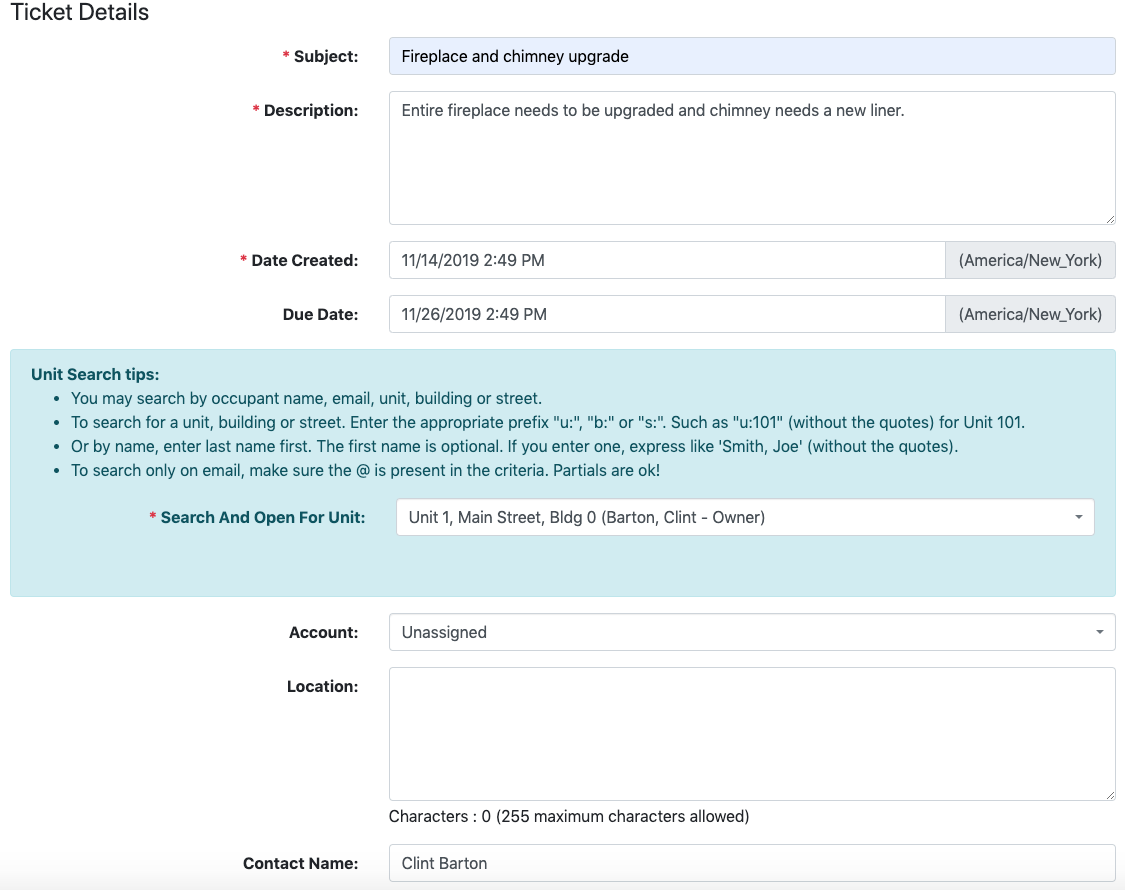 To edit and collaborate on a ticket with staff members, click on the "i" or information icon on the specific ticket.
Click "Add Comment/Change Status/Assign".
Select a status from the following options: New, Acknowledged, Approved, In_Progress, In_Review, On Hold, Completed, Cancelled, or Rejected.
Choose to reassign the ticket or keep it assigned as-is.
Select the comment visibility: "Managers & Residents See" or "Managers Only See".
Choose to notify the contact or managers of the change.
Add a comment, and click on "Submit".




Filter criteria on the dashboard and generate reports
Select a specific community or all communities to display results.
Select the status, state of the ticket, and who it is assigned to.
Choose a start and end date to display the ticket results.
Select the modified date and/or filter by the subject of the ticket.
Once you've selected all of your criteria, click on "Search". All relevant tickets that match your criteria will be shown.
You can then download a summary report based on the criteria you searched for by clicking on the "Summary" report on the right-hand side of your screen and specify the email address that should receive the report.
Conclusion
The new Architecture Change Requests helps managers to collaborate with residents on their home improvement/change requests and keep them and other staff informed of the progress.
Related Articles

How to Create a New Ticket Alert (Discussion Board, Work Orders, Support, ARCs, and more)

Managers can now customize messages that will display on each type of ticket in Pilera: Activity Logs Architectural Change Requests Rule Violations Support Tasks Work Orders Discussion Board Residents will be able to see this message when they ...

Creating Quick Add Comments for Work Orders & Activity Logs

Summary/Goal: To provide managers with an in-depth understanding of Ticket Comment templates, how to create them, and apply the templates for multiple communities for staff to use. Managers can create Quick Add Comments for Work Orders and ...

How can I add documents into the New Document Library?

Adding Documents into the New Document Library In order to add documents into the New Document Library you will need to have the correct Role permissions. Those permissions include: Company Admin Role Company File Library Manager Community Manager ...

How do I create or change the color scheme on my community website?

Summary/Goal: Having a color scheme is important to your community or company's branding. This article shows you how to add colors to your website. Steps: In the Admin Control area, click on "Change Site Look". This is where you will set the colors ...

What is the Ticket Analytic Report?

This video walks you through the Ticket Analytics Report. This analytics report is a great way to provide insight into the number of tickets being created & closed in your communities. You can run analytics for Work Orders, Unit & Occupant Logs, ...