How do a make someone a Community Moderator - Community Discussion Board
Pilera's newest feature - the Community Discussion Board allows for occupants and community managers to create topics/communications to share with the community. The Discussion Board is accessible by managers and occupants via the "Community Tab". The Community Moderator role is a newly created role that designates that role holder to receive e-notifications for every new thread or comment. Only Community Moderators will receive e-notifications of New Topics & Comments. Other manager types and occupants can view the topics & comments when they are logged into Pilera. The Community Moderator Role can be assigned to any person (occupant or manager) in the community.

1. Who can assign someone to be a "Community Moderator". Community Manager and Company Admin role types can assign any community member to be a "Community Moderator".

2. Under "Settings" and "User Roles", click on the Middle Tab - "Manage Many Community Users". Then select the role in the drop down - "Community Moderator". You can then add your community moderators for each of your communities.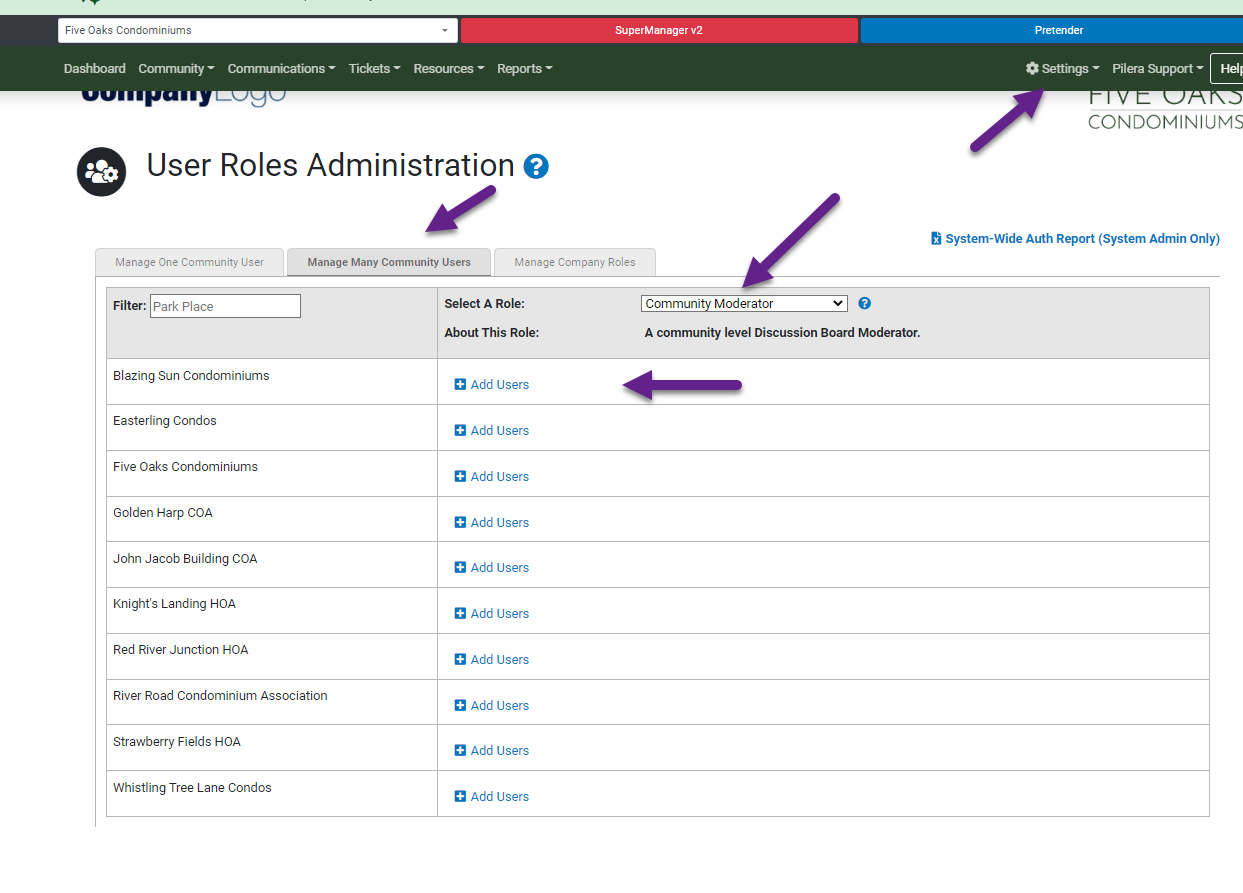 Helpful Tips:
Managers and Community Moderators can edit/ delete any Topic or Comment that they feel is inappropriate for the community. Occupants can edit their own topics and edit / delete their own comments.
For more information on how to set User Roles -
click here
Related Articles

Adminstrative User Roles, Pilera User Roles

Pilera Administrative User Roles Last Updated: Sep 18, 2019 03:06PM EDT Summary/Goal: To help managers gain a better understanding of user administrative roles they can assign or be assigned to, email notifications each role can receive, and the ...

How can I add a Google Map to my Pilera Community Website?

Summary/Goal: In this article we will cover how to add a Google map to your Pilera Easysite. You will be able to include specific locations on the map such as the location of your community or office. Brief: To embed a Google map into your Pilera ...

Adding a google calendar on my Pilera community website

Summary/Goal: In this article we will cover from start to finish how to add your Google calendar into the Pilera Easysite. This includes making the calendar public, grabbing the embeddable URL and inserting it into the source code. Brief: To embed a ...

How do I create a Task and access the Task Management Dashboard

Summary/Goal: Task Management provides a simple way for board members and managers to collaborate on a variety of community responsibilities. The purpose of this help article is to discuss how the task management product works. Brief: First, make ...

How do I add a new manager in one community, or in many?

Adding a New Manager in One Community or Many. 1. The first thing you'll want to do is select the "Add Occupant" button. You would make them a manager type on Pilera Support Street. 2. Once you have added your manager into one of your ...